Hearing Aid Evaluation & Follow-up
The Munk Difference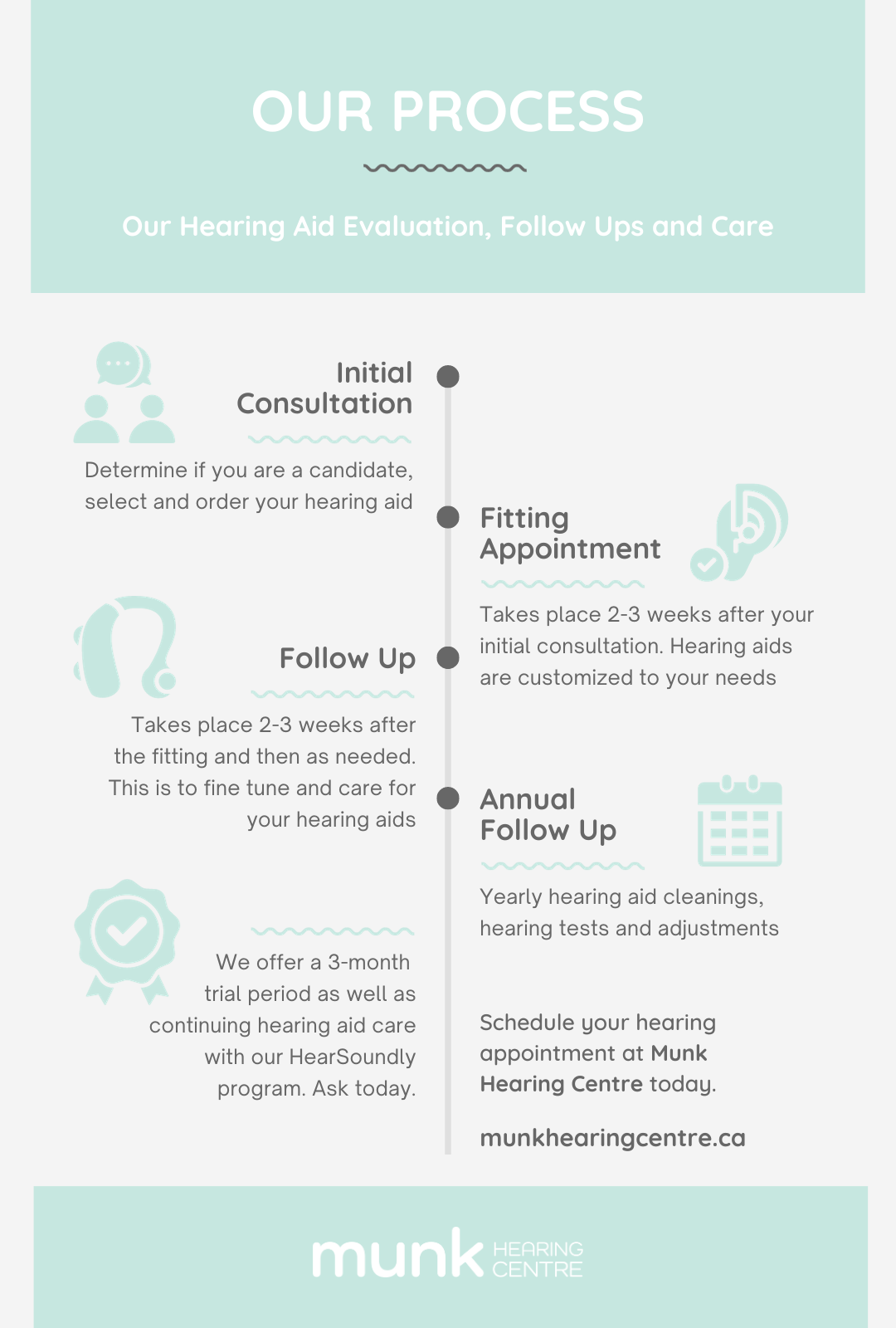 If you suspect that you have hearing loss, a Hearing Aid Evaluation is your first step toward better hearing.
There are several factors to consider when choosing a hearing aid(s) or invisible hearing aid(s) and our audiologists are trained to guide you through that process.
As a leading hearing clinic in the Toronto area, the Munk Hearing Centre team is here to help you overcome the difficulties of hearing loss. As always, we strive to provide the best possible technology to give you the best opportunity at living life as normal.
If you have any questions or feel as if you are a great candidate for our hearing and evaluation services, give us a call!
The Hearing Aid Evaluation
During your appointment, your audiologist will determine your candidacy for hearing aids and will make recommendations based on your medical history, type of hearing loss, individual needs, and budget. As part of this, your audiologist will determine what hearing aid style(s) are appropriate for you (including invisible hearing aids) based on your hearing loss and lifestyle from a wide range of hearing aid manufacturers.
If we do not have a recent hearing test for you on file, we will include one at no additional charge as part of your consultation.
At the end of the appointment, you can decide whether or not you are ready to proceed with a hearing aid order. We want you to be comfortable with your decision - you will not be pressured to make a decision prematurely.
Every Hearing Aid Evaluation Includes:
A hearing test (if required)

A detailed overview of your hearing test results

A one-hour hearing aid consultation

A hearing aid prescription
The fee for this appointment is $100 and can be paid by cash, debit, or credit.
The Fitting
Once your hearing aid(s) have been selected, we will order the hearing aids on your behalf.
Note: If you went to a different centre for your initial consultation but would like us to fit your hearing aids, please call us at 416-340-4800 x.7067 as we will need to obtain a copy of your prescription.
The fitting appointment typically takes place 2-3 weeks after your initial consultation and takes approximately 1 hour. During this appointment, the hearing aids are programmed for the individual's specific hearing loss. We recommend that you bring a friend or family member to this appointment to help you remember the information you'll be given.
Your Initial Reaction
You may not love the way the hearing aids, including invisible hearing aids, sound at first, and that is quite normal. Hearing aids aren't like adjusting to reading glasses - it will take some time for your brain to get used to hearing all of the sounds you've been missing, especially if you've had decreased hearing for a while. Things will improve after a period of acclimatization. We offer a generous three-month trial period to ensure that you have more than enough time to make sure that you are happy with your hearing aids.
The fitting appointment typically includes:​
Hearing aid programming and initial adjustments

Real Ear Measurements (REMs) are performed to verify that the hearing aid is providing appropriate levels of amplification

Orientation to hearing aid features and use (e.g. hearing aid insertion, program changes, and battery replacement techniques)
The Follow-Up
Approximately 2-3 weeks after the initial fitting, it is time for some fine-tuning. In a perfect world, the initial fitting would be perfect, but in reality, some tweaks are usually needed after you've spent some time wearing the hearing aids - in fact, it is normal for hearing aids, including invisible hearing aids, to need multiple adjustments and a few follow-up visits may be required as you adjust to them. Along the way, we will also tailor the hearing aid settings so that they perform optimally for your lifestyle.
The follow-up appointment(s) typically include:​
Further adjustments and fine-tuning as required

Programming changes (if needed), programming of any additional accessories

Orientation to advanced features and accessories (e.g. remote control)

How to clean and care for your hearing aids

Counseling on your progress so far and expectations for the future
Annual follow-ups
Our hearing clinic genuinely cares about your hearing health, as we do everything in our power to provide you with the best services and technology for the betterment of your hearing. Due to this, patients are encouraged to have yearly follow-up appointments for hearing aid cleanings, hearing tests, and small programming changes if needed.
To Book with us
Please call our Munk Hearing Centre reception desk at 416-340-5530 to book your Hearing Aid Evaluation or to request an appointment. You may also fill out our contact form below.